The chance of gain is by every man more or less over-valued, and the chance of loss is by most men undervalued, and by scarce any man, who is in tolerable health and spirits, valued more than it is worth. —Adam Smith
I am a determinist. As such, I do not believe in free will. The Jews believe in free will. They believe that man shapes his own life. I reject that doctrine philosophically. In that respect I am not a Jew… I believe with Schopenhauer: We can do what we wish, but we can only wish what we must. Practically, I am, nevertheless, compelled to act as if freedom of the will existed. If I wish to live in a civilized community, I must act as if man is a responsible being.
I am enough of an artist to draw freely from the imagination. Imagination is more important than knowledge. Knowledge is limited. Imagination encircles the world. —Albert Einstein
While I certainly wasn't done with my thinking about AI, I did not expect to be returning to the topic so soon, but there was a cascade of stories in my news feed about AI that I felt compelled to save for future reference and it turned into the dominant trend for the week. So, here I am again.
Let me start by sharing that cascade with you:
Sci-Fi Mag Pauses Submissions Amid Flood of AI-Generated Short Stories
The rise of AI-powered chatbots is wreaking havoc on the literary world. Sci-fi publication Clarkesworld Magazine is temporarily suspending short story submissions, citing a surge in people using AI chatbots to "plagiarize" their writing.
Viral "Photographer" Reveals His Images Were AI-Generated
Jos Avery was surprised when his portraiture account amassed nearly 30,000 followers in just five months. The self-described photographer primarily posted heavily retouched black-and-white portraits accompanied by fictional stories about the subjects to @averyseasonart. But Avery recently came clean and told the world that his "photos" were actually generated by Midjourney, a text prompt-based artificial intelligence image-generation program.
Mueseum Under Fire for Showing AI Version of Vermeer Masterpiece
… critics of AI technology found the museum's decision to show Midjourney-generated art concerning. Artist Iris Compiet commented on the My Girl with a Pearl Instagram post that she found the amount of AI images entered an "incredible insult," and others agreed. Some artists have heavily condemned the platform and other similar tools like Stable Diffusion for scraping potentially copyrighted works to create datasets, allegedly without seeking artists' permission. Midjourney and DeviantArt are part of a class-action lawsuit recently filed by the United States District Court for the Northern District of California accusing the platforms of copyright infringement.
And then there was John Oliver's contribution to the subject:
John Oliver on new AI programs: 'The potential and the peril here are huge'
It's hilarious. Time well spent even if it glides over the longterm threat a little too smoothly by telling us not to worry, the AI we are dealing with is narrowly focused and therefore not capable of taking over the world, yet. He does, however, get to something that is important, which is that these AI iterations are something of a black box. We don't know how they do what they do. Right now that's because the driving algorithms are proprietary and secret. Oliver argues for transparency which is well and good, but, it is probable that this intelligence will self develop itself to a place where we really can't understand how it does what it does.
Here are a couple of my own offerings on the subject in the past two months:
In which I conclude…
My most optimistic self says this isn't the invasion of the body snatchers or the Borg. We will continue to do what we do, be what we are, love and hate one another, gather in communities small and large. While doing so, we will be parts of something that is more.
And…
In which I observe:
Much as I admire Nick Cave and my musician friend for being the valiant and vibrant creators that they are, I think the argument that ChatGPT doesn't feel and hasn't experienced is beside the point. It doesn't need to feel, it only needs to make human beings feel in this particular game. It only needs to predict what will bring tears to our eyes and laughter to our faces, what will draw us deeply in and help us transcend ourselves. I suspect that ChatGPT and other AI like it can and will get very good at that.
And finally, a talk I gave at the New York Society for Ethical Culture in 2009:
What Intelligent Life Is Made Of
In this talk I reviewed the publicly available information about AI and robotics and concluded that we should call it "Alternative Intelligence," not Artificial. It also contains a pretty interesting excerpt from the Unabomber Manifesto if you're interested.
So, why another post about AI? Because I want to get a few things straight in my/our minds about AI.
AI is here to stay.
AI is the continued evolution of intelligence on the planet.
AI is already very good at, and will get even better at, getting us to engage with it.
There will certainly be good that comes of AI.
There will certainly be bad that comes of AI.
We are not in control of the evolution of AI and never will be.
We can be happy, creative and productive in spite of AI.
So, let's take each of these statements in turn.
AI is here to stay.
No matter what we think about it, no matter how angry we get with it, no matter how afraid we are of it, we are not going to stop it from happening. It is the product of a global economic system that is utterly entrenched and stands to benefit from it enormously. Because there is so much for some to gain from it, vast sums of money are being and will continue to be invested in it. Because it is the exciting cutting edge of computer technology there will be an endless supply of young engineers that will want to work on it.
AI is the continued evolution of intelligence on the planet.
I believe that AI is part of an evolutionary step in the development of intelligence on the planet and there are evolutionary processes behind its emergence that are not comprehensible to us because we are enmeshed in them, subsumed by them.
AI is already very good at, and will get even better at, getting us to engage with it.
If you think Facebook and Twitter and Instagram were addictive, AI will make them seem like child's play in its ability to serve up what makes us smile, laugh, cry, angers us, you name it. If we can feel it, AI will learn to serve up content that makes us feel. This will be very addictive.
There will certainly be good that comes of AI.
Think health and well being. Thinking affordable legal assistance. Think self driving cars and trucks (they will get here). There is lots we can be helped with.
So, we have to decide how we want to deal with it. How we want to be with it.
There will certainly be bad that comes of AI.
Whether or not "Skynet" ever evolves, there is plenty to be worried about. Think user addiction (see above). Think the ultimate scam artist. Think behavior we can't explain or control (the black box problem, see above).
We are not in control of the evolution of AI and never will be.
I personally don't think we have ever been in control of it and aren't about to start being in control of it. Intelligence is evolving. It was always going to do that. Short of societal collapse (which is not an impossibility by any stretch of the imagination given the threats to the globe currently unfolding), AI will continue to progress. What it evolves into is a huge question that can't be fully answered right now though Hollywood is not at all short on speculation (see the Terminator series, 2001 A Space Odyssey, Battlestar Galactica, etc).
We can be happy, creative and productive in spite of AI.
Assuming there is no "Skynet" scenario, assuming we are not enslaved by it, then I think we might coexist with it, that we will be a part of it even as we go about our daily lives.
This past Friday I attended an art exhibition in the library of Saugerties, NY. Here is some of the artwork I saw: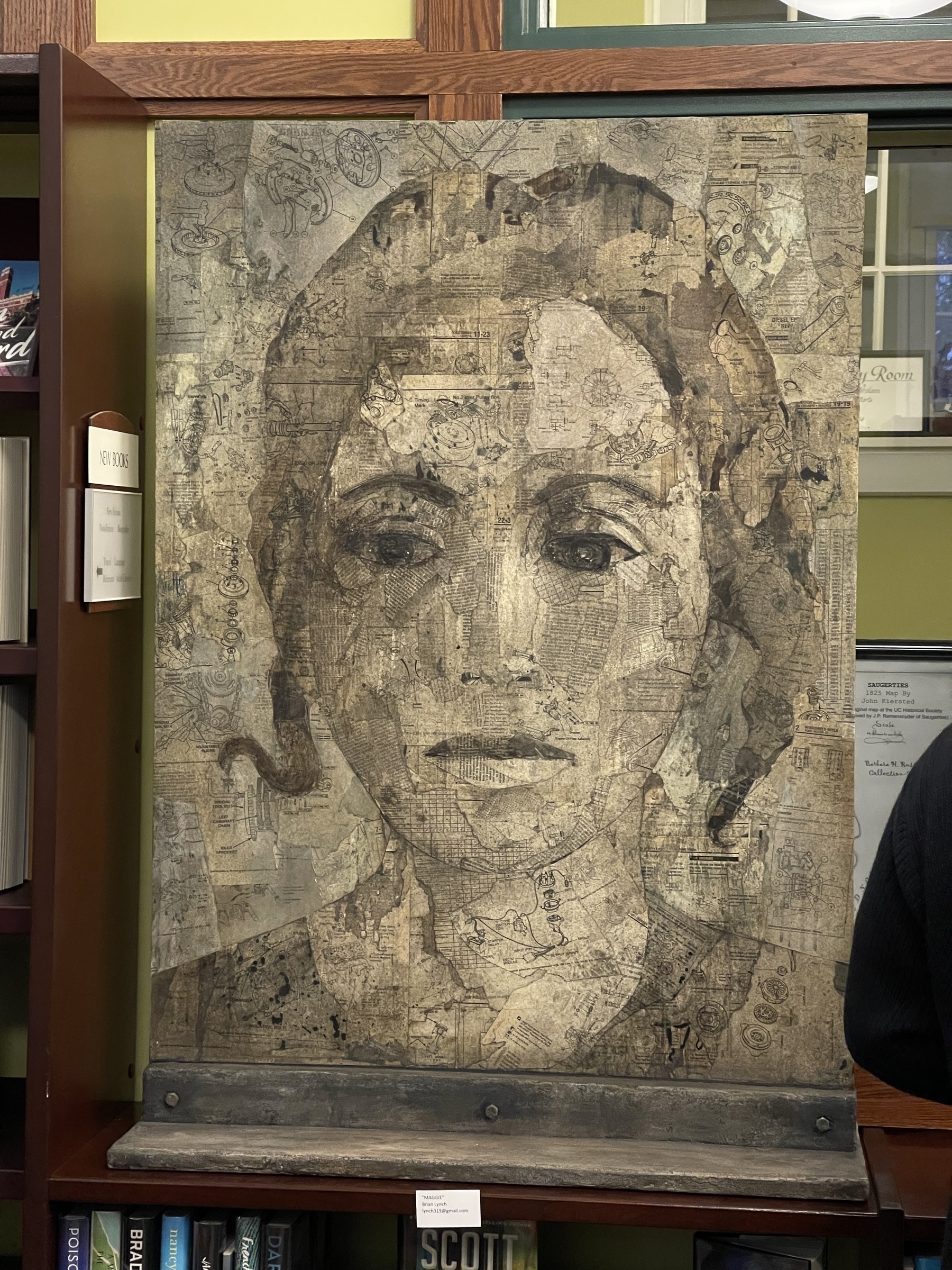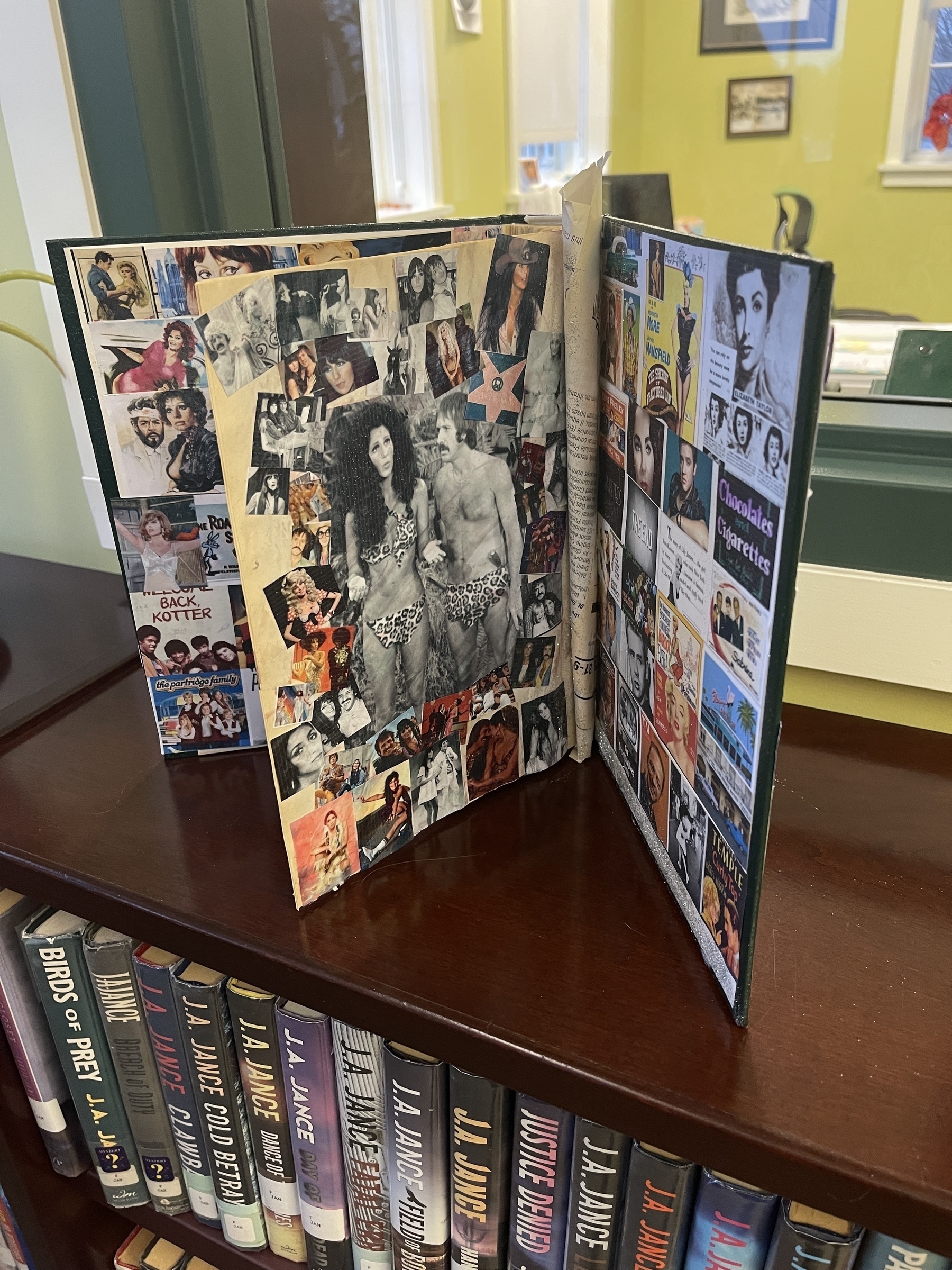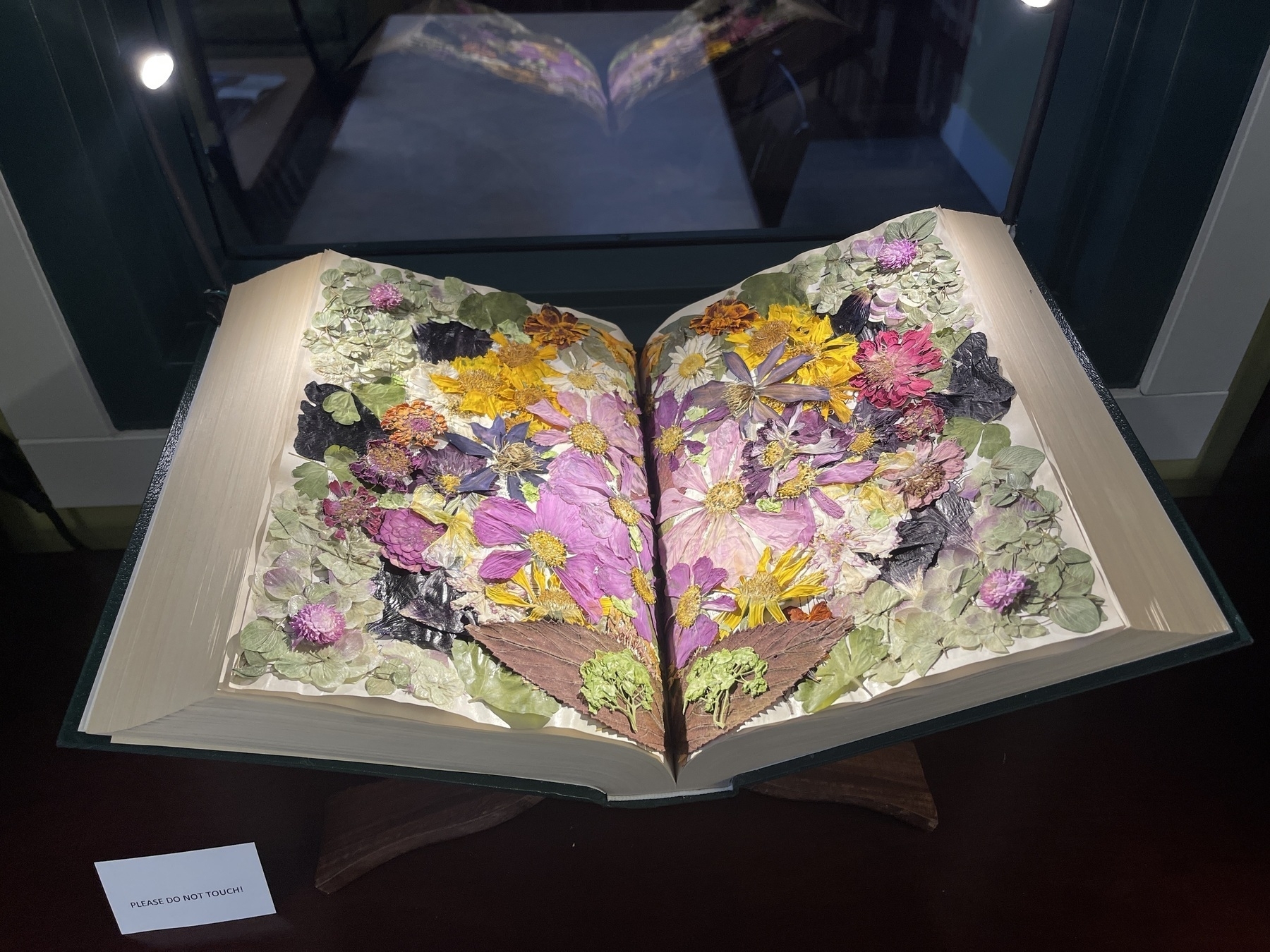 Each of the artists invited to the show was given a discarded book and asked to create a site specific sculpture. It is a unique show in a local setting. At the beginning of the year I set an aspiration to support the artists I know and art in general by being present to it, attending openings, seeing shows, especially local ones. This is the level where face to face contact with human imagination and its products is to be experienced. I saw some very good art on Friday. I got to talk with a few of the artists about their work and eavesdrop on a couple others talking to friends and others about their work. It was a direct, visceral experience.
I am convinced that the best way to navigate the changes that are coming our way is to go local. Either as artist or art appreciator, go local. Share your work locally, seize every opportunity you can to see and appreciate local work and meet the artist. You may or may not be creating or witnessing "museum worthy" work, but you will be participating directly in the culture of the place you are in. This is a level of being and interconnection that I don't think AI can disrupt except to the extent that it entices us out of this local experience. Locks us up in our homes, offices and studios, starring at the computer screen. We must allow ourselves to be compelled to be human.